Loutra Aidipsou is situated about 150 kilometers north of Athens on the island of Evia.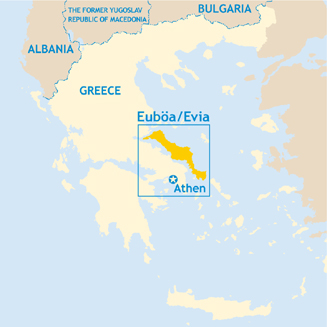 From Athens
Through the national highway, you reach Arkitsa where by ferry boat, you will be in Loutra Edipsou in 45 minutes.
Alternatively, through the national highway you reach Chalkida, where you go by car through the island to get to the north of Loutra Edipsou after the in-between ports of call (Nea Artaki, Prokopi, Limni, Rovies, Ilia). Even if this route is longer, it combines amazing pine- covered areas and coastal scenery.
From Thessaloniki, north and central Greece
Through the national highway you reach Glifa and by ferry boat you then reach Ayiokambo, only 15 kilometres north of Loutra Edipsou.
Busses from Evia bus station to Loutra Edipsou run daily from Athens, Thessaloniki, Larisa and many other cities.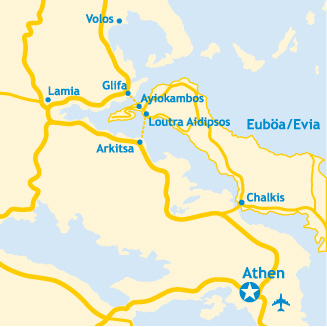 Information
Athens bus station: 210 8317153 / 8317163
Thessaloniki bus station: 2310 512121
Evia bus station: 22260 22250
Edipsos Ferries: 22260 22464
Arkitsa Ferries: 22330 91290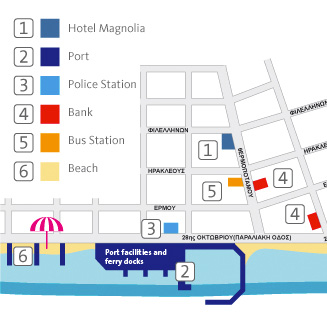 plan.pdf
[618.92 KB]